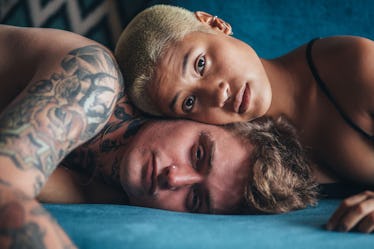 7 Signs You're Too Co-Dependent On Your Partner, So Take A Step Back
My partner and I are that super annoying couple. You know, that one that does everything together. We live together, we hang out all the time, and for long periods of our relationship, we've even worked together. Ugh, I know. Unbearable. But the question is, is it also unhealthy? I mean, it doesn't feel like it is, but how do you know for sure if your seemingly OK (if deeply enmeshed) relationship is healthy or not? What are the signs you're too co-dependent on your partner?
To help answer that question, I contacted relationship experts who walked me through how to recognize if your connection is problematic, and their answers were really helpful. The difference between healthy dependence and unhealthy co-dependence is really blurry, so knowing what it looks like in action can make all the difference.
First thing's first: What does being in a co-dependent relationship actually mean? There are a lot of complicated and confusing explanations online, but I think the best and most succinct definition is one by John Amodeo, Ph.D., MFT, in his piece Are You Codependent or Just a Caring Person? for Psychology Today. In the article, he describes co-dependence as "ignoring our own wants in order to serve others or gain approval." This, I believe, really gets to the core of co-dependence. It's the sublimation of your needs in exchange for the approval of your partner. Yikes. When you put it like that, it's pretty clear why that wouldn't be a healthy situation you want any part of. With that in mind, here are the signs of co-dependency to look out for in your own relationship.