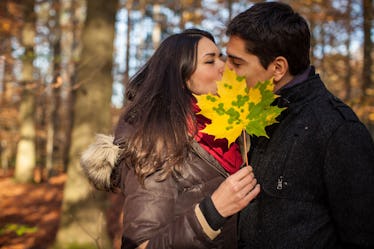 7 Cuffing Season Sex Positions That Feel More Fall Than A PSL
When summer turns to fall, you might spruce up your wardrobe with new warm layers, decorate your apartment with some pumpkins and candles, and jazz up your normal coffee with some pumpkin spice flavor. And you might also consider spicing up your sex life by trying these cuffing season sex positions! Whether you're adventurous in the bedroom or prefer more tried-and-true moves, being sexually seasonally inspired can be oh so much fun.
It's not only fall, it's also cuffing season, so you might find yourself exploring all sorts of new things with your new partner. Having a new sexual partner is a great time to try new things, experiment, and perhaps discover something new that truly leafs you breathless. (See what I did there?!) Of course, trying new tricks in the sack is also totally possible if you're with a long-time partner! The most important thing to consider when approaching a new position or move is to be sure you feel safe, are comfortable, and communicate clearly with your partner. Remember, being really scared might be better reserved for your haunted house experience than for during sex!
So whether you're shacking up with a new flame, or keeping the fire burning with a long-time boo, there's always ways to experiment in bed. And with these moves, you're autumn-atically guaranteed to have a good time!