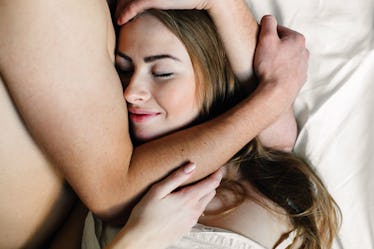 5 Sex Moves To Try On A Snow Day So You Can Both Stay Warm (& Hot)
There's nothing like the thrill of knowing that you get to skip work thanks to mother nature doing her thang. Snow days really do belong on the same list of #blessings as finding money randomly, and TBH, spontaneous surprises really can be some of the most satisfying. For the full experience, it's pretty much mandatory that you and your bae take advantage of some snow day sex moves to keep warm.
The best part of having a snow day IMO is simply the fact that you get some unexpected down time. And even if you still have to work from home, that definitely doesn't stop you from taking a break for some sexy fun with bae. Bonus points if one of you is willing to whip up some hot toddies or buttered rum to set the mood. (Because day drinking isn't really day drinking if it's snowing, right?)
So often, the main emphasis of how to make sex hot is put on the position you do it in, but the truth of the matter is, if all of the right elements are in play (i.e. sexual chemistry, tension, foreplay, location etc.) you can totally have some of the best sex in pretty much any position. When taking a closer look, having an amazing sexual experience can be as simple as incorporating a few well-timed sex moves that are sure to send your partner's pleasure into the stratosphere.
1. Do It On The Couch
One of the unsung heroes of keeping things fresh once your usual routine has gotten a bit predictable is to change up your locale. And if you're not going at it on the couch at least semi-regularly, then you are definitely missing out. The spontaneity of couch sex really can be so sexy. All you have to do is settle in for a good movie with the one caveat that heavy petting is totally fair game, but you can't get to the main event until the credits roll. There's a pretty decent chance that you might not make it until the end, though, which is kind of the point.
2. Or Do It In Front Of The Mirror
This is definitely not for the faint of heart, as having a tryst in front of a mirror really is so unbelievably hot. I mean, the angles, the view, the voyeurism of it all. Chances are, it's going to be pretty difficult to keep the steam from fogging up the glass with this one.
3. Tell Them A Dirty Story
Is dirty talk more your style? If so, a snow-day, marathon sex sesh could easily be amped up with some scandalous storytelling. While talking during sex may feel unnatural to some, walking your partner through every dirty detail of a fantasy mid-act is never a bad idea.
4. Do A Hair Flip
A huge shoutout to all of the long-/big-haired ladies. If you're not using your lush locks to your advantage, then it is definitely time to change that. Any time you're on top is a perfect opportunity to sneak in a hair toss or two for maximum sexiness. But short-haired ladies, don't fret. A quick run through your hair with your free hand is great, too.
5. Do It Under A Cozy Blanket In Missionary
A snow day is the perfect excuse for a vertical tango while draped in your favorite blanket. Plus, if you both can manage to stay under the blanket long enough, you will definitely be generating some serious heat.
Snow days truly are some of the best opportunities to catch up on some sensual — and sexual — quality time with your boo. Another tip? Adding some sexy movies to the mix is a great way to keep things sizzling, no matter how cold it is outside.
Check out the entire Gen Why series and other videos on Facebook and the Bustle app across Apple TV, Roku, and Amazon Fire TV.
Check out the "Best of Elite Daily" stream in the Bustle App for more stories just like this!