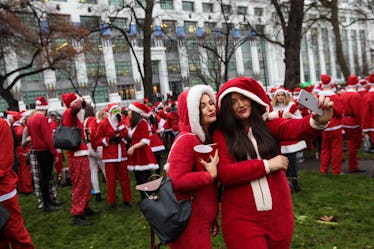 7 Best Outfit Ideas For SantaCon, If You're Up To Snow Good With Your Girlfriends
Jack Taylor/Getty Images News/Getty Images
If you're 21 and up, you know SantaCon is that dope and incredibly jolly celebration in cities all over the country where we combine two adult hobbies: drinking and dressing up in festive attire. And since ladies are notorious for sleighing all day, any day of the year, it's only logical that SantaCon outfits for women would be the topic of an entire article.
I mean, the world may not revolve around us ladies, but we sure as hell make it go around. Thankfully, the holidays are filled with so many themes, stories, and accessories that the hard part is simply deciding which one you want to encompass in your outfit. Once you've got that down, the rest is history and you're ready to jingle all the way.
From Rudolph to Santa's helper, these outfits reach an entirely new level of festive fun. And no matter how many other ladies you see with the same costume as you, it will never be exactly like yours, because women are diversely beautiful in that way. There's not one way to be a woman, and there isn't one way to sleigh an elf outfit, either. So, if you're headed to a SantaCon bar crawl with the crew and don't know what to wear, look no further, because Christmas is coming early this year.