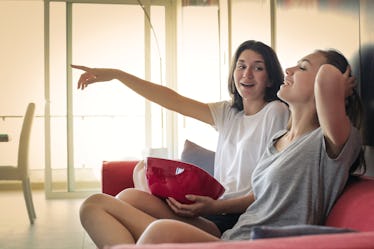 7 Romantic Comedies On Netflix To Stream With "Your Person" This Holiday Season
Meredith Grey and Cristina Yang set the golden standard for a "your person" relationship on Grey's Anatomy. Their friendship made it easier for us to identify ours as well. And while normally scouring Netflix is a chore in itself, finding romantic comedies on Netflix to stream with "your person" is effortless.
"Your person" is the ultimate Netflix and chill partner, because relaxation doesn't even begin to describe what you provide for each other. You laugh together, cry together, and even do a little bit of both at the same time. If that's not a true friendship, then I surely don't know what is.
Unlike "your person" though, certain shows and movies on Netflix don't stick around forever, so you continuously have to stay on top of what's about to be released, and sadly, what is going bye, bye. Since romantic comedies are life itself, it's only logical that the two of you explore some titles in that genre. Grab the tissues and wine (if you're 21 and up), because the feels are about to be all over the place. And just so you aren't stuck in Netflix limbo trying to figure out where to start, these titles will surely send you on your way to laughs and happy tears of joy.