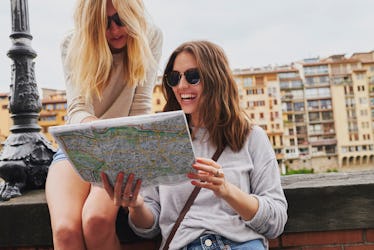 7 Reasons To Travel Abroad With Your Long-Distance Bestie In Your 20s
You've probably heard over and over again that your 20s is the best time to be traveling. I hate to sound like a broken record, but it couldn't be more true. And if we're getting technical here, your 20s is a prime time to specifically check off your dream destinations abroad. All you need for a bucket list experience is the right destination, and the perfect traveling partner. That person is none other than your long-distance BFF. You've been looking for excuses to see each other, and there are so many reasons to travel abroad with your long-distance friend that will make you want to pack your bags ASAP.
You may have become long-distance because of school or a job, so you're always looking for a prime opportunity to reunite. Why not reunite in a place you both have always been dreaming of going to like Europe, South Africa, or Asia? It sure as hell beats the usual spots you would meet up. Basically, you're killing two birds with one stone — seeing your BFF and scoping out a cool place you've never been to before. It's like all the pieces are falling perfectly into place for one super awesome trip.
Get your phone ready, because after seeing these seven reasons why you should be traveling abroad with your long-distance BFF, you'll be Facetime-ing to let her know the plans.