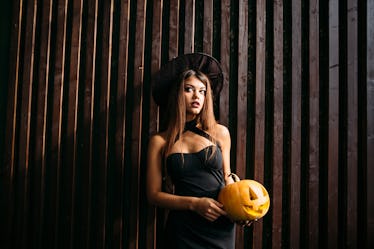 7 Pretty Halloween Costume Ideas That Don't Involve Glass Slippers
Halloween costumes vary. It's literally a day we step out of the person we are used to dressing up as every day, and slip on something a little more dramatic. Sometimes, us ladies don't want to conceal ourselves in a white sheet, makeup stitches, or DIY blood. Picking out some pretty Halloween costume ideas are still technically considered a costume, you're just choosing to get dolled up instead of looking half dead.
Now, don't get me wrong, those nightmarish costumes are what make the Halloween spirit seem real, but they aren't the only costumes that make the night come to life. Halloween should be a mixture of gore and gorgeous; it's called balance. Instead of being something people run away from, you can be the person people are literally crawling to and admiring.
Pretty Halloween costumes don't get enough credit. They still involve a theme, accessorizing, and of course, a successful execution of the character being depicted. You can still get in the spirit of Halloween if you're swapping fangs for hair flips, or stitches for stilettos. So, if you're planning on putting together a pretty Halloween costume this year, there are way more options out there that don't involve being a princess or a fairy.