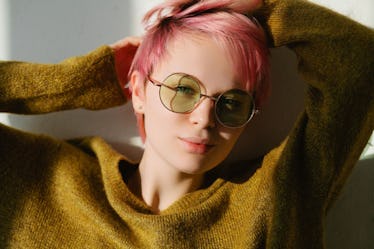 7 Phrases Millennials Use On The Reg That Nobody Else Would Understand
I don't know about you, but I love being a millennial. Sure, explaining to my parents how to use social media apps, make avocado toast, or create the perfect meme can get a little old. Like you, I've had real talk with people from other generations about the rise of influencers and alternative career paths, too. I've throughly laid out my reasonings for purchasing a plane ticket over fancy dishware, and my plan for conquering everything on my bucket list. Sometimes, I've received an encouraging nod back, and other times, I've faced endless questions. It's OK. I know our generation can be misunderstood at times. Maybe it's because there are phrases millennials use that nobody else really would.
These are phrases like "lit" and "so fire" that you regularly read in the comments of your Instagram posts, or the messages in your group chats. They're usually accompanied by some sort of emoji, meme, or GIF that perfectly describes how the person on the other side of the screen is reacting to the #content. Every once in a while, though, they come up in your real-life conversations — the ones that happen beyond the digital world, in a picture-perfect café or coffee shop.
You might be talking to your bestie about the latest episode of The Bachelorette or some drama that just went down. She'll say, "OK, spill the tea," after grabbing her cappuccino. You know instantly what she means, and the context of these seven millennial phrases.