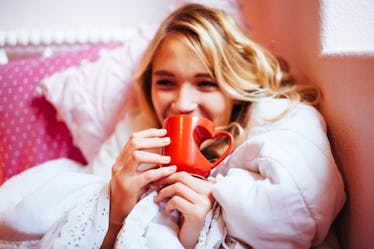 When PMS Tries To Ruin Your Week, These 7 Subscription Boxes Will Make You Feel Better
Have you noticed that, any time a woman refers to "that time of the month," it's usually, if not always, laced with a negative connotation? Trust me, I know firsthand just how much of a literal pain your period can be. Between menstrual cramping, monstrous cravings, insomnia, and irritability, not every period is quite the picnic all those tampon commercials would like you to believe. Luckily, there are such things as period subscription boxes to take your sad, menstrual song, and make it better.
Sure, money can't buy you happiness, but it can purchase a few items wrapped up in pretty packaging to make your time of the month a little less melancholy. I don't mean to get all hippie-dippy on you guys, but the female reproductive system really is a miracle within itself. Instead of loathing Mother Nature's pit stop at your uterus once a month, it'd probably be easier on you to accept your period for what it is, and find ways to cope that actually make you feel better.
Let's face it, gulping down a few Midol pills every few hours doesn't exactly sound glamorous. But receiving a brightly decorated present at your doorstep every month, chock-full of both the bare necessities and some sweet treats to top 'em all off? Now that sounds pretty fabulous to me. So, rather than resenting your period, try treating your period instead, with any of the following subscription boxes that have "special delivery" written all over your cycle.