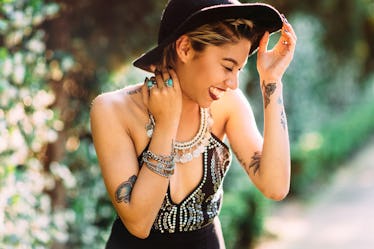 7 Myths That Are Keeping You From Living Your Best Life At 21
Myths lurk everywhere. Why? Because people perpetuate them, and sometimes — even if they don't actually believe in them — they are too scared to do the opposite of what they say. It's crucial to know that myths aren't facts, and they can often steer people away from the life they really want. Certain myths that keep you from living your best life at 21 are told to you by your peers and the stuff you see on social media.
These myths may have originally stemmed from something truthful, but somewhere down the line, they were skewed. Remember when all of your friends decided to chant "Bloody Mary" three times in the bathroom mirror to prove a myth was real? Nothing happened, but then again, you did hightail it the second they turned off the lights, anyway.
All I'm saying is that myths don't really do anything besides keep you from living your life on your own terms. They're unjust and non-factual claims that can't even be traced back to a direct person for validity. Yeah, some myths might have been entertaining when you were a kid, but as an adult, they can put a halt on your plans. Ditching any of these seven myths that currently apply to your situation will be so worth it in the long run.