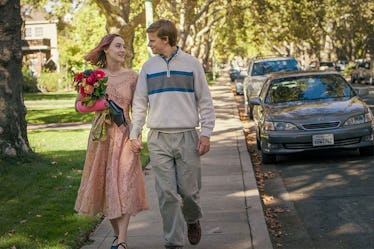 7 Oscar-Nominated Movies You Need To Watch With Bae Before The Big Night
While awards season is always an exciting time of year, the list of movies nominated for the 2018 Oscars is especially noteworthy. The 90th annual Academy Awards will air live on Sunday, March 4. If you didn't get the chance to catch all of these phenomenal picks in theaters, it's totally understandable. Maybe you were busy with work, or maybe you chose to see Call Me By Your Name three times instead of fitting in The Shape of Water. Either way, I get it. Luckily, there is still time for you to cram in a few last-minute screenings before the big night. And if you plan on watching with your significant other, you should definitely prioritize the seven films below. They span a number of genres, but each one has its own unique element of romance.
Best Picture nominees tend to get the most buzz, but don't sleep on the other movies up for awards. Categories like Production Design, Sound Mixing, and Original Screenplay also consist of creative works and truly talented people who help make movies happen. So consult this list, pop some popcorn, fluff the couch cushions, and tell bae to clear their schedule. This weekend calls for a pre-Oscars movie marathon, followed by an Oscars watch party, of course.
1. Call Me By Your Name
Call Me By Your Name (nominated for Best Picture, Actor in a Leading Role, and more) has been described by critics and viewers as "sensual," "gorgeous," "rich," and "emotional." At the heart of the film is a summer romance that heats up under the Italian sun. Armie Hammer and Timothée Chalamet's performances will have you longing for warmer weather and sun-dappled days flirting with your own first love.
2. Lady Bird
If you love coming-of-age stories, relatable characters, and/or realistic relationships, then you'll love Lady Bird. This female-directed, female-led film is up for multiple Oscars, including Best Picture and Actress in a Leading Role. The heartfelt drama/comedy is both refreshing and poignant. If you haven't yet had the pleasure of watching this movie, just know that it's a must-see.
3. The Shape Of Water
The Shape of Water has the most Oscar nominations this year (13, to be exact) including Best Picture, Actress in a Leading Role, Directing, and Writing (Original Screenplay). If that isn't reason enough for you to watch, this fantasy film also depicts a romantic relationship between two very unlikely lovers. With incredible direction from Guillermo del Toro, The Shape of Water has emerged as an Oscar frontrunner, so don't miss out.
4. The Big Sick
Oh, The Big Sick. I laughed, I cried, I laughed some more. This film is so original, telling such a specific story, and yet, it is also incredibly relatable. The movie is nominated for Original Screenplay and is based on lead actor Kumail Nanjiani's early relationship with his now-wife. What begins as a one-night stand soon develops into a complicated love story. The Big Sick addresses heavy topics such as race, religion, illness, infidelity, and more — and still manages to come off as endearing and personal. It's available to stream for free with Amazon Prime.
5. Baby Driver
First of all, I am here for any movie that stars Ansel Elgort. Factor in a killer soundtrack, a bunch of action-packed car chases, and one life-changing romance, and you've got Baby Driver. The film is up for three Academy Awards: Achievement in Sound Mixing, Achievement in Film Editing, and Achievement in Sound Editing. If you're looking for the perfect date-night film, this is it.
6. Beauty And The Beast
Emma Watson was made for the role of Belle in Beauty and the Beast, and the live-action remake of the classic Disney film proves it. With an immensely talented cast, gorgeous costumes, and a few welcome updates to the 1991 original, Beauty and the Beast will have you feeling some type of way. It's nominated for Achievement in Production Design as well as Achievement in Costume Design. And did I mention that it's on Netflix?
7. Get Out
No spoilers, but Get Out isn't about an idyllic relationship. Despite what the happy, dog-owning couple at the beginning of the movie may lead you to believe, this is a horror movie. You and your SO can still hold hands, but it's not conventionally scary, so don't use that as an excuse not to watch. Even if you think you know what happens, this movie is worth seeing from start to finish. Get Out picked up four Oscar noms, including Best Picture, so stream it on HBO GO ASAP.
You can't really predict the winners if you haven't seen the nominated films, and everyone knows that's half the fun. It's important that you watch as many of these movies as you can before the Oscars, so why not invite bae and make it an award-winning (date) night?
Check out the entire Gen Why series and other videos on Facebook and the Bustle app across Apple TV, Roku, and Amazon Fire TV.
Check out the "Best of Elite Daily" stream in the Bustle App for more stories just like this!