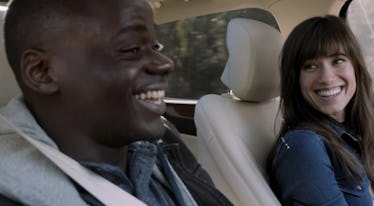 'Get Out' Was Nominated For 4 Oscars & Twitter Is Giving A Standing Ovation
Universal Pictures
There is really no denying that 2017 was a standout year in the film industry: Wonder Woman soared to new heights in the superhero genre, The Big Sick proved that great romantic comedies are not a thing of the past, and Girls Trip broke the box office with one of the funniest movies in recent memory. But among all of those incredible movies, the one that everyone could not stop talking about was Get Out. So, it made total sense when Get Out was nominated for the 2018 Oscars on Tuesday morning.
At the Oscars nomination ceremony, Andy Serkis and Tiffany Haddish announced that Get Out received four nominations at this years Oscars. The movie was nominated for Best Original Screenplay, Best Lead Actor for Daniel Kaluuya, Best Director for Jordan Peele, and Best Picture. This has definitely been Get Out's best showing at an awards show this season, so fans should be pretty excited.
Get Out fans took to Twitter to express their excitement at Jordan Peele's unexpected thriller getting some serious recognition at the Oscars this year. Check out some of the tweets below:
With four nominations, Get Out is actually having a better showing at the Oscars than it did at the other major awards season ceremonies. It scored two nominations at the Golden Globes and the SAG Awards, both for Best Actor for Daniel Kaluuya and Best Picture, but lost out both times. Now, the Oscars are putting the movie up for those two categories again, along with Original Screenplay and Best Director for Jordan Peele.
Although it was probably the buzziest movie of the year, Get Out has had a rough go of it this awards season. Part of that may be its release date — Get Out was released all the way back at the very beginning of 2017, whereas most movies that contend for Oscars are strategically released close to the end of the year — but another thing that may have tripped up the movie's awards chances may have actually been how refreshingly innovative it was. Jumping the genre lines of horror, comedy, drama, sci-fi, and more may have made it difficult for some awards shows to weigh the racism allegory against the other vastly different movies from 2017. The Golden Globes faced some confusion a few months back when the revealed that had categorized Get Out as a comedy, but since the Oscars don't separate movie nominees into genre categories, this was not an issue at Tuesday morning's announcements.
But still, there is something to be said for the "Oscar" movie. The Academy Awards may not distinguish between genres, but it has become pretty clear that Oscar movies have become something of a genre of their own. Deeply personal, introspective dramas like Moonlight or Birdman and gritty, based-on-real-events stories packed with movie stars like Spotlight and 12 Years a Slave seem to stand out above the rest in the Best Picture category, along with ever-present war movies. Comedies, horror movies, and sci-fi flicks almost never fare well against hard dramas at the Oscars, which is a pretty disheartening sign for a daringly original movie like Get Out.
It seems most likely that the Best Picture race will be a showdown between awards season frontrunner Three Billboards Outside Ebbing, Missouri (fresh off sweeping the Golden Globes and SAG Awards) and the three other critical standouts: The Shape of Water, Lady Bird, and Call Me By Your Name. All four of those movies seem to fit into the Oscars mold much more seamlessly than Get Out, even though Jordan Peele's racial thriller was undoubtedly the most original and talked-about movies of 2017.
I'm still holding out hope for a Best Picture win for Get Out, but it is more likely to take home the trophy for Best Original Screenplay or possibly Best Director for Jordan Peele. The 90th Annual Academy Awards will take place on March 4.