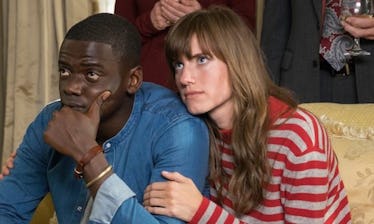 'Get Out' Was Nominated As A Comedy At The Golden Globes & Here's Why
Universal Pictures
It's official. One of this year's biggest cinematic success stories, Get Out, is officially a Golden Globe nominee. Jordan Peele's innovative socially conscious horror movie picked up some big nods Monday morning, Dec. 11. Daniel Kaluuya is nominated for Best Performance by an Actor in a Motion Picture, Comedy. The film is also also nominated for one the night's most major awards, Best Picture — Comedy or Musical. But why is Get Out a comedy at the Golden Globes?
Yes, you read that right. Comedy. The fact that the satirical thriller joins lighter films like The Disaster Artist and The Greatest Showman is kind of a head-scratcher. But Peele spoke up about why the movie was submitted among comedies. If he's cool with it, we're cool with it? He said,
When I originally heard the idea of placing it in the comedy category it didn't register to me as an issue. I missed it. There's no category for social thriller. So what? I moved on.
I made this movie for the loyal black horror fans who have been underrepresented for years. When people began standing up for my voice, it meant a lot. "Get Out" doesn't just belong to me any more, now it belongs to everyone.
The reason for the visceral response to this movie being called a comedy is that we are still living in a time in which African American cries for justice aren't being taken seriously. It's important to acknowledge that though there are funny moments, the systemic racism that the movie is about is very real. More than anything, it shows me that film can be a force for change. At the end of the day, call "Get Out" horror, comedy, drama, action or documentary, I don't care. Whatever you call it, just know it's our truth.
Yes, it's hard to put this film into a box. It represents so much more to people, as Peele noted, so why worry about allocating it to one genre.
If you're an avid or even casual Golden Globes viewer, you probably already know that the classification of certain films and TV shows has been poked fun at in the past. The Martian wasn't exactly a barrel of laughs, yet it won Best Motion Picture — Musical or Comedy at the major awards show in 2016 and people were all, "huh?" Judd Apatow even spoke up to joke about how the Globes' categorizations take away statues from the people making actual comedies. "We only get one award, Matt, that's all we get. I'm like a nerd on the schoolyard and you stole my milk money," the writer and director said, referring to Matt Damon.
Acclaimed TV shows like Transparent and Orange Is the New Black have also been submitted in the comedy race before at the Globes, but we don't exactly consider them to offer up the same tone as shows like Modern Family or Jane the Virgin. With all the blurred genre lines happening in entertainment, will we need a drama/comedy category soon to appease people's confusion?
As for Get Out, no matter what category it's landing in, it's bound to have an amazing award season. The riveting and thought-provoking film has already been one of 2017's critical darlings. It's up for five Critic's Choice Awards, five Independent Spirit Awards, and five Image Awards. It won Best Screenplay at both the Gotham Awards and the Los Angeles Film Critics Association Awards. We're a little surprised the screenplay got snubbed at the Golden Globes, considering the way it's been recognized thus far. But we have no doubt that we'll be seeing a slew of Oscar nominations for Jordan Peele and company. Get Out is already considered one of the frontrunners for Best Picture. Well deserved, indeed.
The Golden Globes are set to air live on NBC on Jan. 7, 2018.