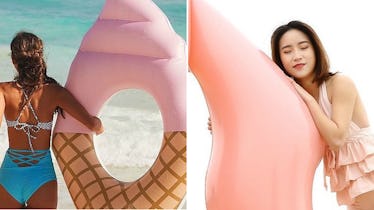 These Millennial Pink Pool Floats Are The Only Accessory Your Instagram Needs This Summer
Urban Outfitters/Amazon
When you're a kid, heading to the pool or the beach is the best time ever. You looked forward to it for ages, and when you finally got to go, it never disappointed. The sun was shining, the water was sparkling, and you had beach and pool toys galore. Once you grew up, the beach and the pool didn't really lose their appeal — but you did stray away from the beach toys. This summer, though, that's all about to change. With these millennial pink pool floats, it's time to stop denying the kid in you, and say hellooooo to good times and summer vibes.
I'll be honest: I don't care how many times Pantone's Color of the Year changes, I'm not moving past millennial pink. It's my forever color of the year every year, mostly because it's the perfect shade of pink: subtle, just bright enough, calming, and just enough spunk to show your personality. I'll be listing off reasons why I'm obsessed with the color till I'm gray, I'm sure, but the bottom line is this: Pool floats are making a comeback, kids, and if there are any you should have your eye on this summer, it's these millennial pink floaties.
Whether you're headed to the beach or to the pool, a pool float is going to be your new best friend. These seven options are just the tip of the iceberg, but they're so cute, you're going to need them all for you summer Instas.