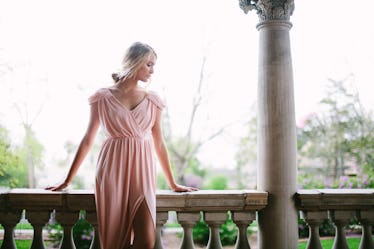 Your Girlfriends Will Say "I Do" To These Millennial Pink Bridesmaids Dresses
The reign of millennial pink will seemingly never let up, and everyone is so here for it. Trendy accessories, shirts, and even Disney attire are all fair game when it comes to this super sweet hue of pink. If you're getting married anytime soon, it's OK if your browser history is packed with millennial pink bridesmaids dresses.
Millennial pink is an extremely popular and beloved color, and that's before you even consider how precious those wedding pics are going to come out. Oh, and those selfies with your bride tribe that are likely to end up on the 'Gram will be so, so gorgeous. You want your bridesmaids looking and feeling their best as they to proudly walk down the aisle.
There's no science behind this, but millennial pink seriously makes you want to slay whatever occasion you're headed to. If you're getting married during the spring or summer, Mother Nature is going to hashtag bless the shade even more. You want your ladies to feel incredible in what they're wearing so that your day runs a lot smoother. If millennial pink sounds like the answer to your bridesmaids dresses, the question is: which one of these babies should be the number one pick for your tribe?