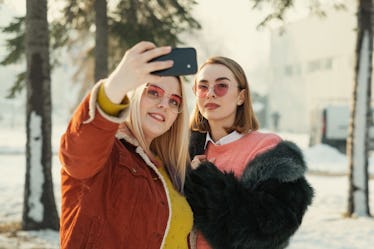 7 Instagram-Perfect Moments All Best Friends Should Share In Their 20s
Aleksandra Jankovic, Stocksy
You and your besties are inseparable. You do basically everything together — from getting your nails done, to celebrating birthdays and major holidays, and you even spend quality time with each others' families. It's clear you make irreplaceable memories together on the regular, which also means you document them all on the 'Gram. While you're down to take pictures pretty much all the time, there are definitely some perfect bucket list Instagram moments to share with your best friends in your 20s.
Let's be honest: Every moment spent with your crew could be considered Instagram-perfect. When you're together, you laugh until your bellies ache, and you build each other up so you walk with all the confidence in the world. (Shoutout to your besties who also always hype you up when you're taking your #plandid pics.)
Even though you already make incredible memories together, there are definitely more things you should experience together in this decade of your life. Everything from being in each others' weddings, to planning a magical Disney World vacay are special moments you need to share with each other when you're in your 20s. So, call up your crew and figure out how you can check these things off of your bucket lists ASAP.