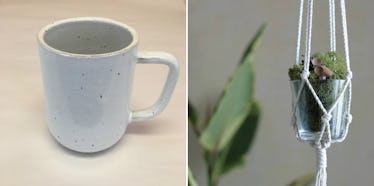 7 Hygge Accessories Under $30 To Make Your Space Extra Cozy This Winter
Hygge Life/Etsy
Do you ever wonder why we actually try to be more self-loving and attentive around the New Year? Sure, it could be because resolutions are generally encouraged, but maybe it's really because it's the middle of winter and the only way to not freeze to death is to take hot baths, sip cocoa, and peck on a plate full of warm, buttery carbs? For Scandinavians, coziness and contentment isn't seasonal, it's a full-blown lifestyle called hygge and you can incorporate the warm and fuzzy feels year-round by investing in cheap hygge accessories under $30 because self-love don't cost a thing, but home décor does, and you want to make yours as comfortable and cost-effective as possible.
If you're not up to speed on what hygge is, exactly, allow me to clarify. Hygge is home decor meets fashion statement meets full-fledged lifestyle whose center focus is contentment. In the U.S., it's been adopted as a kind of cozy aesthetic to strive for in the winter when all you want to do is snuggle up on the couch, watch Netflix, and chill until the beginning of April. In Scandinavian culture, it's more of a mindset that's encouraged year-round, in hopes that people who practice hygge are happy being their true selves, finding joy in the simple things life has to offer.
It sounds lovely, and the culture's picturesque aesthetic has attracted attention across social media, inspiring other cultures to adopt the lifestyle in their own accord. Your hygge doesn't have to be Pinterest-perfect from the start, though. Begin by investing in pieces that add a little more homeyness and calm to your space with the following affordable accessories.