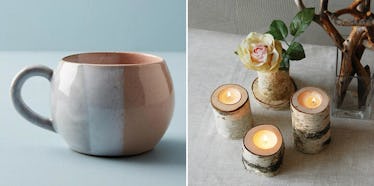 9 Cozy Things Under $20 That'll Bring More Hygge Into Your Home
Anthropologie/Etsy
Think cozy thoughts; that is what I am going to be repeating to myself over the next four months of winter. Don't get me wrong, I actually love cold weather. I'm the type of person who dreams of cool temperatures and steaming cups of hot cocoa in the middle of July. But the best part of winter isn't the below freezing forecasts; it's making your space even more homey with seasonal décor and trendy items with hygge things to buy for a Scandinavian touch.
Hygge stems from Scandinavian, Danish, and Swedish cultures, and the term can be defined as a mood of coziness and comfort with feelings of wellness and contentment. The idea is to bring peace into the home and live harmoniously through the dead of winter, rather than shunning nature and opting to hibernate through the cold. Through cozy decor, warm beverages, and decadent foods, each day is meant to inspire physical and mental wellness — something, I think, we could all get behind, amirite?
Hygge can inspire so many things about your lifestyle, including your decor, the way you dress, the foods you eat, and overall, how you approach life in and outside the home. But, especially during the winter season, we could all use an extra dose of cozy vibes, don't you think? Browsing through Pinterest and Instagram will lead you through an expensive wishlist of hygge-inspired decor, but if you're balling on a budge this winter, here are a few key hygge items to buy that'll cost you $20 or less.