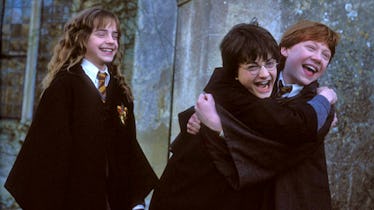 These 'Harry Potter' Tattoo Ideas Would Make Hogwarts So Proud
Hogwarts will always be home — period. For every die-hard fan who cracked open the books and watched every movie religiously, the love for the wizardry world is all too real. And how else do you pledge your loyalty to such an iconic series? By getting a tattoo, of course. Harry Potter tattoo ideas are anything but basic, and will make you incredibly nostalgic.
You can keep a piece of the series with you always by getting one of these magical tattoos. Harry Potter is so dynamic that it's full of characters, sayings, and images you can draw inspiration from for your one-of-a-kind tattoo. Personally, everything Griffyndor-related has my heart forever.
As much as our beloved movie series has come to an end, the culture of Harry Potter is truly everlasting. From the swag to the book release anniversaries, fans are always trying to find a way to show some love to Hogwarts. Don't let the immense popularity discourage you, though. There's more than one way to represent your Hogwarts house or your favorite sentimental quote from the movie. Harry Potter may have been the "marked one," but you'll be shining just like his lightening bolt scar if you opt for any of these tattoo ideas.