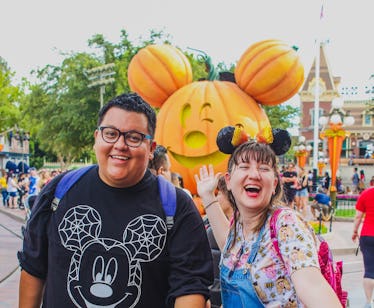 7 Halloween Things You Can't Miss Out On At Disneyland This Year
Disney knows how to celebrate, and Halloween is no exception. From the Insta-worthy foods, to rides, to pumpkin decor, Disney is certainly the place to be to celebrate Halloween. If you're planning a fall getaway with friends or your SO, this roundup of Halloween things to do at Disneyland will take your experience to the next level.
I consider myself a self-proclaimed Halloween queen. The minute I see pumpkins decorating Disneyland, I'm smiling from ear to ear. That's like a green light signaling me to enjoy every Halloween thing the park has to offer, and they really do have a lot going on. There are Halloween overlays of some of your favorite rides, merch like candy corn Minnie ears, and special shows you don't want to miss out on. As a foodie, it may take you a few visits just to try every delicious limited-time offering on all the menus.
Though, if you only have a quick trip planned, this list of seven things to do at Disneyland around Halloween will help be your ultimate guide. Hopefully this checks everything off your list between food, rides, and photo opps worthy of your vacay recap on Instagram. You'll get the full Halloween Disneyland experience you deserve.