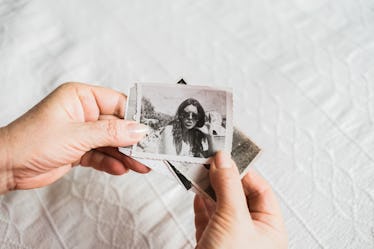 These 7 Hacks Can Help Improve Your Memory & They're Actually So Simple
When I was a kid, I could read something once and remember the facts immediately. I was able to recall things with such ease, and my memory was like a freakin' trap. These days, it's different: Not only does it feel as though my focus has gotten a little weaker as the years have gone on, my memory is simply not, as they say, what it used to be. This means, my friends, I am all about finding simple hacks to improve my memory, and lucky for you, I am more than down to share them with all of you.
If you've also noticed your ability to remember things slowly slipping away over the years, don't get too upset, because it's not really within your control. Michael Yass, a neuroscientist at Johns Hopkins University, told Lifehacker that the reason your memory gets weaker as you get older is because "the pathways leading to the hippocampus" begin to degrade over time. The hippocampus is the part of the brain where your memories are stored, so basically, your head just get worse and worse at being able to process and store the information up there.
So, what can be done, if anything, to make sure we keep those pathways strong? Well, it certainly can't hurt to try some of these science-tested hacks. You might just find yourself spending a little less time looking for your keys, or trying to remember your neighbor's name.