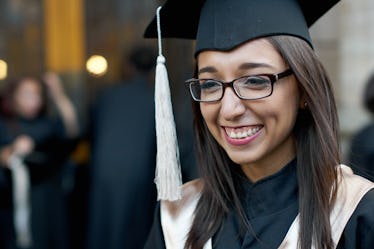 7 Graduation Presents To Give Your Partner When They Finish School
It's been a minute since I've graduated from school. To be exact, 4.2 million minutes. (Hi, I'm old!) But with age comes wisdom, and some perspective on what kinds of things are truly useful out here in the real world. Hot tip: Oh, The Places You'll Go by Dr. Seuss is not one of those useful things. It will sit on your shelf forever. I don't mean to sound heartless, or as though I don't believe in thoughtful gifts; I just believe that the transition from college to adulthood is major, and if you want to give your partner a graduation gift to mark the occasion, why not make it something that will help them navigate this transition? A children's book might not be the most practical option out there.
I graduated from Boston College in 2010 on an unseasonably hot May day, exceedingly hungover from a week of celebrating. What would have been useful to me as a graduation gift would have been a Gatorade, four Advil, a back rub, and the gift of not being judged while I laid around on the couch for the entire next day. When I moved to New York after graduation, the most useful gift someone could have given me would have been a broker's fee or, you know, the listing for an East Village apartment that actually had kitchen cabinets.
I'm not saying you need to find your partner an apartment, or buy them something useful but boring like hangers for their closet. But the best graduation gifts are the kind that say, "Bye, college. Welcome, adulthood!" You're trading Solo cups for actual glassware; beer-soaked rugs for hardwood floors. Here are seven gifts you can get your partner for graduation this year.