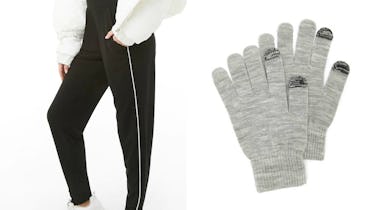 The 7 Best Gift Ideas For Runners If You Don't Feel Like Spending More Than $20
To the fashionista of your squad, athleisure is a beloved trend that deems joggers chic instead of slummy. To your runner BFF, however, sportswear isn't just an aesthetic, it's a lifestyle. So when holiday season comes around, don't expect to see a new pair of designer boots on their wishlist. Instead, they'll probably be adding things like Nike cross trainers and headphones. Which is the one downside to buying gifts for athletes: Workout gear adds up. Luckily, though, when you're balling on a budget, there are plenty of awesome gift ideas for runners under $20 that'll make them happy, and save you money.
Besides, the most expensive gift isn't always the most coveted. Any present that shows your loved one you've paid close enough attention to their passions throughout the year, and that you were able to pick something out that truly reflects who they are, will speak volumes. Runners like to run, so if you can find a gift that makes their route a little more bearable, especially in the wintertime when temperatures are bound to dip, then the price tag won't matter. As my girl J. Lo once said, warmth don't cost a thing — or something along those lines.
Struggling for inspiration? Here are a few suggestions to help you hit the ground running.