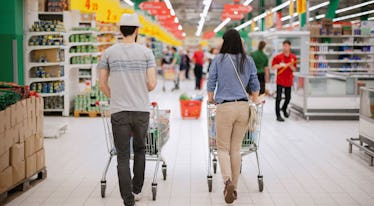 7 Funny Pickup Lines To Try At The Grocery Store That Aren't Too Cheesy, Pun Intended
If you're single and ready to mingle, then you're probably on the hunt for a bae to snuggle up with this fall. Maybe you're using a dating app religiously, or maybe you prefer heading out to hot spots to find someone special. Both of those are great ways of putting yourself out there, but if you want to take a more unique approach, then there might be a place you haven't considered: The grocery store! It sounds weird, but these funny pickup lines to try at the grocery store might just convince you to go for it while you're making your weekly Trader Joe's run.
Can't you just imagine yourself strolling the produce section with someone like Grocery Store Joe? Well, that could totally happen! All you have to do is head to the supermarket and use one of these pickup lines. (OK, so you might also have to like, go out on a date with them or whatever, but you get my point.)
The grocery store is a great place to meet someone. Think about it: Single people mostly go there alone or with their roommates, and there are bound to be several hotties getting their meal-prep on in every aisle. Plus, everyone's got to eat! To help you work up the courage to go talk to the cutie in aisle three, I've put together a list of pickup lines you can use in every aisle of the grocery store. It's the ultimate meet-cute.