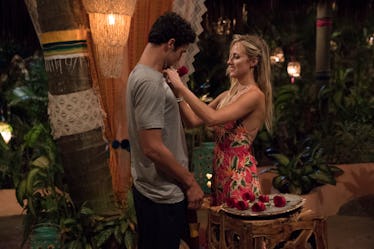 Kendall Long's Instagram About Grocery Store Joe Is The Cutest Thing You'll See Today
ABC/Paul Hebert
Bachelor Nation was on the edge of their seats after Joe Amabile and Kendall Long left Mexico on Monday, Sept. 10's dramatic Bachelor in Paradise episode. The fan favorite couple appeared destined for a happy ending until Kendall broke down and expressed her doubt about their future going into the fantasy suites. They both left abruptly in tears, but it all worked out in the end — the couple appeared on BIP's reunion show to confirm they're making it work. If you need even more confirmation of their cuteness, Kendall Long's Instagram about Grocery Store Joe should do it.
Kendall took to social media on Tuesday, Sept. 11 to assure followers that she and Joe are in a good place these days. Alongside an adorable pic of them hugging, she sweetly wrote,
Wowza, what a crazy adventure! Love is an odd yet wonderful mess that makes those effected do quite strange things but through it all I would do it again and again and again if it meant waking up next to this odd-ball of a human every morning. I love you mucho Joe! And am excited to be challenged by you through every step of this experience we call life.
The fallout that went down in Paradise apparently didn't stay there — she revealed on the reunion that she had major second thoughts about how things ended with Joe, so she visited his hometown to make amends. She confessed to Chris Harrison:
Right after he walked away because he had said so many things. Hearing those things made me realize like, 'Wow, I'm running away from what could be the best thing that's ever happened to me.' I kept replaying over and over in my head things I could have done, things I could have said.
Kendall and Joe's Chicago meeting was filmed, so fans got the chance to see their reconciliation in action.
"The reason why I had fear and the reason why I was holding myself back so much is because I am in love with you," she admitted to him. That's all Joe ever wanted to hear. Long story short-ish? They're together now and Joe is slated to compete on the upcoming 27th season of Dancing With the Stars which means they won't be long distance for now.
Kendall even poked fun at the remorse she felt after exiting Paradise via Twitter on Tuesday during the BIP finale:
Joe shared his own gushy post on Instagram, captioning a goofy photo of the two of them: "I'll take the selfies my arms are longer."
"I feel like the one thing with Joe is that he's just very honest and genuine and puts it all out there with who he is. He doesn't really hold back," Kendall explained to Us about what she loves about Joe. "That was one thing that I really appreciated here on Paradise. I just cracked up so hard."
After everything they've been through, seeing these two back together is just the warm and fuzzy Bachelor Nation needed. Thankfully fans can keep watching Joe on DWTS (hopefully as Kendall roots him).