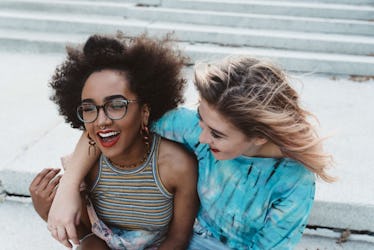 7 Random Favors Only A True Best Friend Would Never Question & Just Do
There's no one better than a BFF. They are always there for you no matter what, and there's never a doubt in your mind that they have your back when you need them (and even when you don't). They do a ton of big things for you, like helping you move apartments or comforting you after a breakup, but they're also there for a lot of the little things as well. There are a ton of favors your best friend does for you, oftentimes without you even realizing that they're doing it.
Best friends have their own secret language that no one else understands, and these small favors often fall into that covert communication. Who else can silently signal that you have parsley stuck in your teeth or that your bra strap is peeking out? BFFs have a way of showing you that they care, even when they're being annoying. (One of my best friends constantly talks to me in a baby voice even though she knows I want to roll my eyes, but she'll tell me she loves me the whole time.)
If this sounds like you and your best friend, you probably do a bunch of little things for each other, too. Here are just some of my favorite little things that my BFFs and I do for each other.