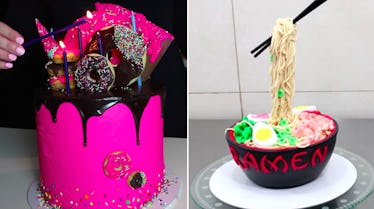 Even A Birthdayzilla Would Approve Of These Extra AF Birthday Cakes
On your birthday, you want to have your cake and eat it, too — quite literally. The dream of having an extravagant birthday cake on your special day begins when you're a kid and lasts forever. But now, having an extra birthday cake isn't so you're the coolest kid on the playground, but because your Instagram followers are eagerly waiting for the bougie pics you'll post.
What exactly does "extra" mean? If you have to ask, you're probably content with the classic "Happy Birthday [enter name here]" cake filled with your favorite ice cream. Of course, there's absolutely nothing wrong with that.
"Extra" doesn't only mean the cake is coated in more frosting and sprinkles than usual, either. This kind of cake brings on all of the tricks you didn't even think were possible in a cake. I'm talking about unforgettable themes, a self-portrait made from fondant, and so many colors you have no choice but to taste the rainbow.
It might be difficult to come up with an idea on your own if you aren't pressed on having a birthday cake that holds a record for making a grocery store chain run out of edible confetti. People are that serious about their cake. If you don't believe me, feast your eyes on these epic birthday cakes that are jaw-dropping.