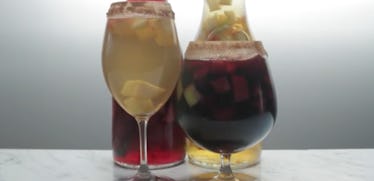 7 Easy Sangria Recipes For Fall To Be Thankful For This Turkey Day
It's the holiday season, which means almost every weekend is jam-packed with parties and festive activities. Make sure you're prepping for a good time by having the right food, tunes, and drinks lined up. It's difficult to think of something to serve that everyone will enjoy, but sangria is super simple to make, and it can be easily served to a big group of friends. There are different types of sangria that pair best with each season, so you'll need to have some easy sangria recipes for fall on deck.
Let's be honest, a refreshing summery sangria is all well and good, but it just wouldn't fit in as well with the turkey, cranberry sauce, and pumpkin pie you'll be consuming. A lot of these recipes have apples in them, so you and your squad can even plan a fall outing to a farm for apple picking in preparation.
Other than gathering ingredients, you're probably super busy planning the rest of your Turkey Day plans, so we'll take care of getting the recipes for you. We've gathered these seven sangria tutorials that will pair great with your Thanksgiving meal. We're so thankful for the combination of wine and fruit that provides us with this tasty drink, just like we're grateful to have all our friends and family together again for the holidays. So, drink up and be merry this holiday season with a nice glass of sangria in hand.