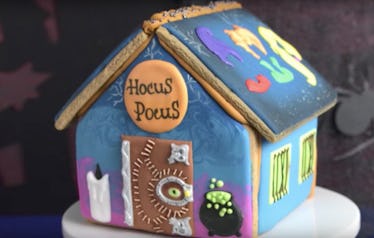 7 Sweet Ideas For A DIY Halloween Gingerbread House Night, Just Because
Building a gingerbread house is a sweet pastime that isn't only privy to Christmas. Besides, what are adults (who can't trick or treat) supposed to do on Halloween? Hosting a DIY Halloween gingerbread house night is the perfect fix to Halloween festivity withdrawals. We need to treat ourselves, and what better way to do that than by building a whole house of sweets and then devouring it?
DIY projects are always rewarding, but imagine if everything you were assembling was edible. I don't think any of us are ready for that glorious situation, but we are here for it. Putting together a cool Halloween gingerbread house will be so much fun with your girl crew, and your sweet tooth will definitely thank you. This project could also you get you out of plans you don't feel like partaking in.
In the meantime, exploring different Halloween themes for your spooky house is right at your fingertips, like most things we need. From decor to supplies, YouTube is the gateway to all of the things you need to know to make your Halloween gingerbread house deliciously dope. Now that you've got a plan in mind, it's time to execute it with some awesome options for a theme.