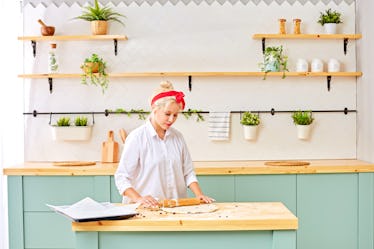 These Disney TikTok Recipes Are Churr-All You Need For A Magical Day
Shutterstock
Experiencing a little Disney magic at home is a lot simpler than you'd think. It doesn't require a genie's lamp or wish upon a star. All you need are some Disney TikTok recipes to start enjoying all your favorite treats from Disney World and Disneyland.
As a foodie in the parks, you've probably found yourself eyeing the Mickey-shaped treats on Main Street and standing in long lines to get churros. Something that delicious may seem impossible to recreate at home, but it's actually quite simple, thanks to these TikTok videos.
When you're not watching your favorite Disney movie or singing along to the soundtracks on Spotify, you're usually scrolling through TikTok. Let's get real, TikTok is where you find all the best dance challenges, memes, and now, recipes. With more and more people trying to recreate the Disney parks experience at home, there have been more and more videos of people sharing their copycat recipes of Mickey beignets and mac and cheese cones from Cars Land.
If you want to get a taste of Disney without having to leave the house, simply follow any of these Disney TikTok recipes. With just one bite, you'll be transported to the Magic Kingdom.