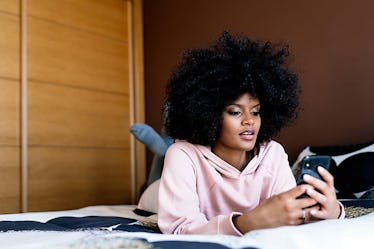 Send These 7 Dirty Texts On Valentine's Day To Get Your SO's Heart Pumping
Valentine's Day can be a corny, pink-and-red, wide-awake nightmare, full of compulsory chocolate-shopping, confetti, and flowers galore. But if you can shut some of that out and get back to what it's really about, it can serve as a great opportunity to show your partner a little extra love... and maybe get a little extra-freaky in the bedroom, too. To kick off your celebration, set the tone with a few dirty-talk texts to send on Valentine's Day Because why would you want another teddy bear grasping at a stuffed red heart that reads "Be Mine" when you can actually have what you really want?
Sending your partner a dirty text in the middle of the day can be the perfect way to get them in the mood for what you have in store later, especially if sexting isn't part of your regular routine. So, to kick things off on the right note, let your lover know what's on your mind by sending them a message that's guaranteed to... ahem... get them on the same page. Not sure what to say? No problem. Here are some dirty Valentine's Day-themed texts to help you get inspired. Warning: Some of these are extra hot.
This article was originally published on