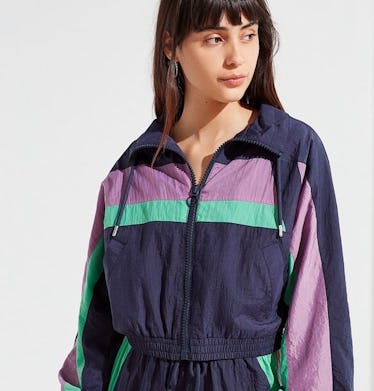 7 Dad-Style Pieces To Wear To Match Your Pops This Father's Day
Urban Outfitters
If you haven't noticed, clothing items that your dad once rocked (or thought he did) are having a major moment in fashion. Nostalgia, in general, seems to be a current inspiration for designers, which means some super '80s and '90s styles are very in. Why not wear dad style pieces as an homage to your pops this Father's Day? You'll be super on trend and might also give him a good laugh. It's a total win-win.
In my opinion, Balenciaga is the brand we have to thank for truly popularizing dad style and bringing it somewhat into the mainstream. It's creative director, Demna Gvasalia, is known for making the old, the strange, and the slightly awkward cool, so it makes sense he'd be the brains behind this sartorial movement. For Spring 2018, he sent models down the menswear runway sporting khaki shorts, dad sneakers with high socks, and '80s-esque windbreakers. Some models even carried kids in their arms, proving definitively who his inspirations were for the season. The most surprising part? I didn't hate the collection, not one bit, and was even inspired to try out some of the geeky-chic trends within it myself.
If you're into the trend and want to show your dad that he inspires you in ways he probably never imagined (read: via fashion) then shop a few of the items below and wear them on Father's Day.
Blast From the Past
'80s windbreakers will forever be among some of the weirdest outerwear styles thanks to their crazy color blocked design. This one in particular features the classic throwback color combination of teal and purple but is modernized via a cropped silhouette.
Sneak Attack
The dad sneakers of all dad sneakers! Fila has been absolutely killing it when it comes to the retro sneaker game thanks to their designs with chunky soles and emblazoned with their logo. This particular pair even features a built-in sock feature—it doesn't get more Dad than that.
Tee Time
I'm legitimately mad at myself for not having saved some of my dad's weirdest and thus most hilarious old t-shirts. Emblazoned with pastel wolves and dumb dad jokes, they were numerous and hilarious. This tee is something my dad would have totally wore in the '90s and honestly, it looks awesome with denim. Why not invest in a few vintage tees of your own to pass along to your children one day?
All Packed
Ah, fanny packs, the most Dad of all accessories. I inherited a hot pink one from my own father that reads "Cancun" across the front (SO cool, right?!) so this one definitely is a step up in trendiness. The neon, however, screams early '90s cool.
Long Order
Khaki shorts—you either love them or you hate them. I happen to fall within the latter category—or at least I did until I saw these. Their tailoring and exposed stitching make them decidedly cooler than the iterations I had to wear as part of my school uniform and paired with a vintage band tee and some cool boots I think they'd look really rad.
Swoosh, There It Is
Wear these babies pulled up to their absolute highest capacity and you'll nail geek-chic and dad cool all in one. I think every dad alive owns socks with the Nike swoosh for some reason.
Tommy Bahama 2.0
This version of the blindingly bright and kitschy Hawaiian tee is about ten times cooler, thanks to the mixing of cool muted prints. It's still decidedly retro but with a so-ugly-it's good appeal. Dad style in a nutshell? I think yes.