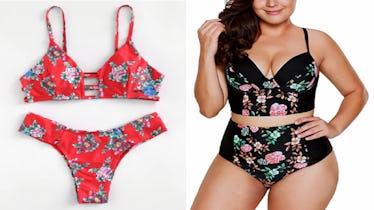 7 Cute Floral Swimsuits Under $20, So You Can Dip Into The Pool & Not Your Savings
Spring is the sweetest little reminder that flowers are finally making their debut once again, and we couldn't be more excited. Flowers instantly make you so much happier, and when you combine them with swimwear, you're in a state of complete euphoria. Since the warmer temps are right around the corner, you're likely on the hunt for cute floral swimsuits that won't leave your wallet crying out in despair.
"Affordable" and "cute" can be in the same sentence when it comes to purchasing your dream swimsuit this year. The floral print fad will never fade — and if you're into the bikini look, one piece, or high-waist style, it really won't ever disappoint. The trick to bathing suit shopping is to hit up your fave shops and boutiques when other people are less likely to (which includes during the colder months).
If not, no worries. There are still reasonable snags out there that are ready to be picked like the petals of a daisy. But instead of partaking in the little "he loves me, he loves me not" thing, you'll be saying, "I love this. How could I not?!" So, if you're ready to dive carefree into an Instagram-worthy infinity pool or the waves at the beach, these affordable floral-printed swimsuits will help a girl out.