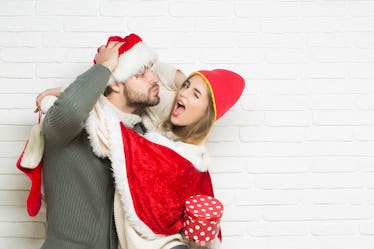 7 Cute "I Owe You" Coupon Ideas For Your Special Someone & Empty Wallet This Holiday
The holidays are rolling in, but that doesn't always mean cash is simultaneously flowing steadily. Life happens, and as much as you would love to buy that special someone anything they want if you could, you might have to improvise. Crafting some creative coupons for your boyfriend will prove that you're making the most out of what you can give, in order to show him that he's definitely on your mind this holiday season.
An "I Owe You" is basically your word that you will deliver whatever is written on the coupon. It's almost like saying you are absolutely open to these tasks or duties, because your wallet is pretty much nailed shut for the season. The coupons can be one of your fun DIY projects.
"I Owe You's" are pretty exciting, because your boyfriend gets to cash in these cute little favors whenever he wants, and they won't be a complete surprise to you because you made them. Wrap them up or hide them around his place, because for this gift in particular, the options are almost endless. Try to veer these coupons toward things that he likes to do around the house, or something he enjoys but feels guilty asking you to tag along. Yes, there's room for these to get a little risqué as well. Don't let the lack of funds get you in a slump this holiday season, because bae will enjoy any of these sweet "I Owe You's."