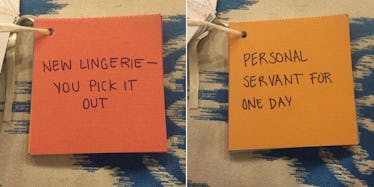 Girlfriend Makes 'Dirty Coupons' For Her Boyfriend To Use As He Pleases (Photos)
For centuries now, humans have feverishly worked toward figuring out how to maintain successful relationships.
We've tried everything from extravagant engagement photos and pricy destination weddings to spending thousands of dollars on unnecessary luxury goods, but nothing's really worked. People are still breaking up.
If anything, the most recent celebrity breakups are proof. And these are supposed to be the people we model our lives after.
But it seems we may have found the answer to maintaining a healthy and happy relationship without faking it for Instagram and filing for a divorce 20 years down the road. Two words: dirty coupons.
According to Playboy, an Imgur user might've found the secret to eternal love. Imgur user Archraider's girlfriend took some time to create a booklet featuring "dirty coupons" for her boyfriend to use whenever he pleases.
This takes care of all of the constant compromising and sacrificing that has to be done in order to make a relationship work.
Just remember, no threesomes.
Hm, it'd be interesting to see how long these two would last if he created a coupon booklet for her to use whenever she pleases... Check out the photos below for a closer look!
If you were looking for the answer to a healthy, long-lasting relationship, we might've found it. They're called "dirty coupons."
One girlfriend came up with the idea of creating a booklet of coupons for her boyfriend to use whenever he wants.
Despite the fact that they're mostly "dirty," there are also a few non-sex-related coupons in there.
Good relationships are often tarnished by couples failing to compromise and make sacrifices.
Dirty coupons take care of that problem.
If both people in the relationship made each other coupon booklets, the world would be a better place and their relationship would actually last.
Sometimes you're tired and you just want a massage.
And other times, this is more your speed...
Or how about those nights when you really don't want to get dragged out?
Dirty coupons are also perfect for getting the things you want, regardless of what your partner thinks. Again, it's called compromising.
This one might as well be considered Charlie's golden ticket.
Way over budget but still want to get irresponsibly hammered? Pull out your booklet and solve the situation at hand.
Take complete control whenever you please.
Remember, the guy's girlfriend made these on her own. It's all about giving in order to get.
And lastly, the greatest dirty coupon of all time...
But don't forget about this one.
Citations: This Girlfriend's 'Dirty Coupon' Could Be The Key To The Perfect Relationship (Playboy)