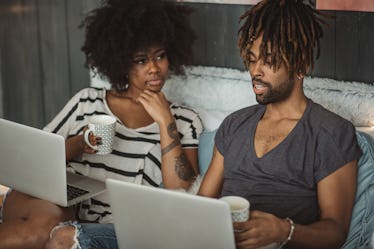 7 Communication Tips To Keep The Peace If You & Your SO Are Both WFH
svetikd/E+/Getty Images
It's easy to feel like you can never get enough one-on-one time with your partner. Enter the coronavirus pandemic, and suddenly, you have too much time. Couples across the country are facing a different dynamic as they're living and working from home together morning, noon, and night. All that togetherness can result in some friction if you're not used to being around each other all the time, which is why effective communication with your partner when you're working from home is especially valuable now.
"In this era of social distancing, working from home with your partner can cause tension and friction that may otherwise have been previously avoided," says Christie Tcharkhoutian, licensed marriage and family therapist and professional matchmaker at Three Day Rule. "Every relationship needs a balance of autonomy and intimacy. As the saying goes, 'absence makes the heart grow fonder,' and it rings true, because the time a couple spends apart during the work day can enhance the quality of time they enjoy when they are together. By working in the same space, they may feel easily annoyed or irritable because of their lack of autonomy and space. Having a conversation to set appropriate boundaries will be important for couples to get through this time."
Here are some helpful ways the experts say you can step up your communication game, so that you can keep the peace while you social distance and work from home.