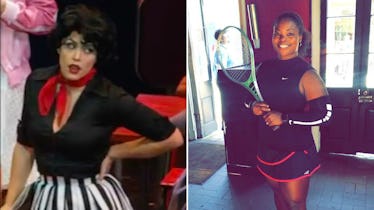 7 Clever Feminist Halloween Costumes That Encourage You To Embody Your Favorite Heroes
YouTube/Twitter
Every year as Halloween approaches, I spend way too much time considering different costume ideas. This year, I narrowed my choices down to an avocado and Frida Kahlo. Now, I love guac as much as the next person, but embodying Frida's powerful energy just feels like the perfect way to celebrate All Hallows' Eve. Plus, I already have all of the clothes and makeup I need to transform into this hero. If you've waited until the last minute to actually decide on what you want to dress up as (just like I did), these clever feminist Halloween costumes are super easy to DIY before the big day.
Not only are these feminist icons easy to embody for Halloween, they're unique, too. Some of these options are pretty outside-the-box, BTW, so you won't be one of five other Rosie the Riveters at your party this year (no shade at all to my girl Rosie, of course).
If you ask me, Halloween is the perfect time to dress up like someone you admire, so whether you choose to embrace Serena Williams' empowering spirit, or the fiery personality of Rizzo from Grease, just own it, girl. All Hallows' Eve is your time to shine.