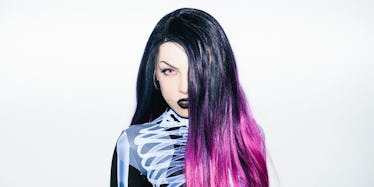 9 Feminist Halloween Costumes To Try If You're All About Dismantling The Patriarchy
It can be downright impossible to find a good Halloween costume, especially if you wait until the night of Halloween to make a mad dash through Kmart to grab anything and everything that fits. It's at these frantic moments you come to notice, despite the fact that it's 2017, many of the Halloween costume options for women still range from "sexy pirate," to "hot Stormtrooper," to "sexy nurse." To say the least, these options are somewhat limiting for us ladies. So, what better way to combat sexist stereotypes this year than coming up with your very own feminist Halloween costume?
Think about it: How many incredible, strong, sexually empowered, intelligent, wise, hilarious, outspoken women in the cultural zeitgeist deserve a moment of appreciation? So many, right? Too many! Just kidding, there can never be too many badass women in this world to look up to. But seriously, just imagine how much fun it would be to channel that confident energy into a kickass Halloween costume of your very own.
Take these ideas as a starting point to help you find the feminist icon (famous, infamous, known, well-known) who really speaks to you and inspires you all year long.
1. Xena Warrior Princess
Need I say more? I don't think so. Slay the spooky vibes this year with this epic costume.
2. Misty Knight
Of the Marvel universe, Misty Knight is a former New York cop who had to have her arm amputated after a bomb attack. After that, she got a bionic prosthetic, and then she casually proceeded to start her own detective agency with her friend Colleen.
Feminist heroes don't really get much better than that, if you ask me.
3. Daria
Daria, a classic cartoon misanthrope known for her brilliant, cynical observations, is so hilariously dry as a character that she could probably catch on fire.
As for you, you'll just have your own fire Halloween costume that probably won't require you to do much more than dig around in your closet for a big baggy sweater and fake glasses.
4. Frida Kahlo
This baby is a really popular costume because, first of all, Frida is just extremely cool. Second of all, it's actually pretty easy to recreate her iconic look with stuff you have around the house. Drape yourself in something colorful, play up your eyebrows, throw your hair up into some braids, and pop some flowers in there.
Voilà! You are now one of the most important painters of the 20th century.
5. Ellen Ripley From Alien
One of the most iconic movie heroes of all time, Ellen Ripley from the Alien movie series is a warrant officer turned savior and survivor who very literally slays (a monster).
6. Jackie Brown
Made a household name by the incredible actress Pam Grier in Quentin Tarantino's 1997 film, Jackie Brown is a flight attendant/money smuggler/famous double-crosser who does everything and anything to have the life she wants, take care of herself first, and to ensure no one pushes her around.
7. A Vagina
This would be fun, wouldn't it? While it's worth noting that not every woman has a vagina, it is a lovely and colorful organ that deserves to be celebrated and interpreted into costume form -- with the assistance of lots of felt and cardboard, of course.
And hey, maybe you can find some visual inspiration from the painter Georgia O'Keefe!
8. Rizzo From Grease
Forget Sandy -- Rizzo is where it's at this Halloween. She's sexually empowered, decisive, cynical, and she's a woman who doesn't take sh*t from anyone.
9. Wonder Woman
Because, TBH, none of us can stop talking about her still.
You can get creative and DIY your own take on this badass superhero, or I'm sure you can find something during that last-minute Kmart run if you "accidentally" procrastinate.