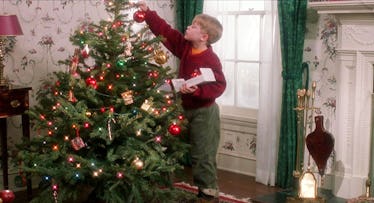 Copy These Christmas Plans When You're Home Alone Like Kevin McCallister
Twentieth Century Fox
If Kevin McCallister from Home Alone has taught you anything, it's that spending Christmas by yourself can be exciting and unexpectedly thrilling. You can have a ton of adventures right in your own decorated home, assuming you make a plan first. What will Christmas plans when you're home alone look like, might you ask? These itinerary items definitely don't include witty pranks, but would still be approved by the star of Home Alone.
This year, you might be spending Christmas alone because of the ongoing coronavirus pandemic. Your family get-togethers have been canceled or made virtual, as the Centers for Disease Control and Prevention (CDC) strongly advises to only gather with people in your immediate household, as noted by their guidelines for holiday celebrations, updated on Dec. 4, 2020. Now, maybe you have a roommate who's quarantining in another state, or you're staying on your college campus to keep yourself and your loved ones safe. No matter what your situation may be, your holiday can still be merry, bright, and memorable.
You simply have to think, "What would Kevin McCallister do if he were in my shoes?" You know a fun-loving kid like him would be whipping up the best snacks or watching a sweet movie. We here at Elite Daily have come up with some Christmas plans for when you're home alone that he would so approve of.
We only include products that have been independently selected by Elite Daily's editorial team. However, we may receive a portion of sales if you purchase a product through a link in this article.