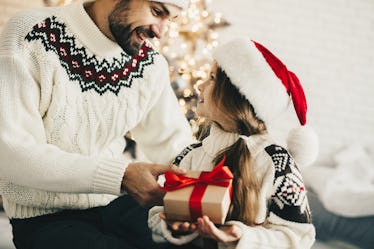 7 Christmas Gift Ideas For The Dad Who's A Total Gearhead
Dads, you gotta love them. From his super corny (yet we have to hand it to him — pretty impressive) dad jokes, to his genuine want to give you the whole world, Dad is truly the real MVP. He certainly deserves something very special on Christmas for his endless amount of support and love, contagious sense of humor, and being one of the few people in life you can always count on. Even if he says he already has everything he could ever want, it's prime time to tailor a gift to one of his passions. If you're absolutely, positively lost when it comes to figuring out what to give him, we have you covered with the ultimate Christmas gifts for dads who love cars.
When it comes to being Santa's helper throughout the season, and picking out the perfect presents for each one of your loved ones, it can be struggle city. Dads can be especially difficult to shop for if they already have everything and don't drop any hints. Luckily for me, my dad casually left a Rodder's Journal Holiday Catalogue on the coffee table next to my laptop. Smooth, dad, real smooth. He's a gearhead and has essentially taught me everything he knows about hot rods and muscle cars since the actual day I was born (no joke).
If your dad is as much of a car fanatic as mine is, check out these seven gift ideas he'll be super impressed with.