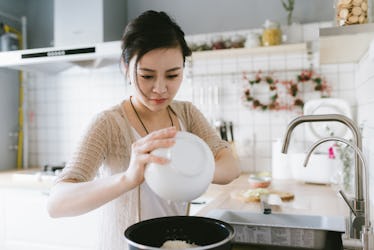 These 7 Foods Will Survive Any Traveling You Have To Do To Get Them To A Holiday Party
The season of dinner parties is upon us, friends. It seems like this is the time of year when every single friend group wants to celebrate by throwing a festive potluck. I love Christmas dishes and catching up with friends, but if you have to spend some time on the road to arrive at a gathering, it can be hard to figure out what to bring that won't spoil or collapse before you reach the dinner table. Luckily, these seven Christmas foods that travel well are great options for bringing in the car (or bus, or possibly even train) so that you don't have to show up empty-handed to the shindig, even if it takes you a while to get there.
Honestly, sometimes I would rather host holiday parties and take on all of the cleaning-up duties just so that I have access to my own oven and stove, but there really is something relaxing about leaving my own messy apartment behind to join some friends at someone else's place.
While these dishes are great to take on-the-go, if you run out of time (or just forget — we've all been there), grab some fresh flowers or a bottle of wine on your way, and you'll be all set. But if your heart is set on bringing a tasty dish to your holiday gathering, look no further than these seven options.