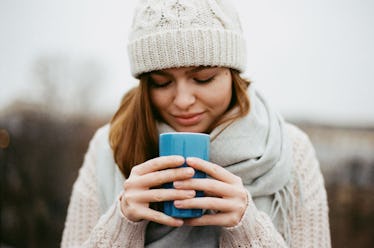 Go To Town On These 7 Foods At Your Next Holiday Party If You're Feeling Moody
The holiday season in and of itself can make you feel all warm and fuzzy inside, there's no denying that. But, what you probably aren't aware of is that those good feels might actually have a lot more to do with the foods you're eating than you realize. This year, it might be interesting to be conscious of which Christmas foods are improving your mood, because nothing's better than attributing your sunny disposition to the decadent slice of chocolate cake you just indulged in, right?
I'm not even kidding, you guys: Chocolate is one of the mood-boosting foods that I, for one, am sure to treat myself to every holiday season (well, every day if I'm being real here, but I digress). There are so many nutrients that have the power to affect your mental state, and, honestly, when you think about it, it's really fascinating to realize that what you're putting in your body has such a profound effect on your brain.
This year, when you're surveying the glorious food spread at your seasonal gathering of friends, family, and loved ones, know that when you're making your plate, these seven foods are linked in some way to an improvement in your mood and your mindset.