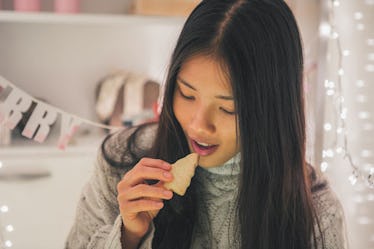 These Christmas Foods Will Leave Your Heart Full & Your Brain Happy, So Go For Seconds
'Tis the season, folks. It's officially the time of year when gingerbread cookies, mugs full of hot cocoa and marshmallows, and all of the pot roast you can devour take center stage. TBH, all Christmas foods really make my heart happy, not to mention my stomach, but it turns out that a lot of Christmas foods can make your brain happy, too — like, literally. These tasty eats are sure to satisfy your tastebuds and give your mind an extra boost at the same time. What could be better, right?
While taking care of your brain is important, it's just as crucial to not lose sight of the actual joy of eating during the holidays. In other words, if your favorite Christmas dish didn't make this list, you can and definitely should still enjoy it to your heart's content. "Holiday foods can definitely bring joy and happiness," Cindy Dallow, PhD, RD, a sports dietitian and certified intuitive eating counselor, tells Elite Daily in an email. "It's important to include food that makes you happy during the holidays, especially if you're feeling blue." For me, that's savory cornbread with plenty of herbs and olive oil.
Bring together your friends and family, cook up a few of these spectacular treats, and enjoy the brain-boosting benefits.