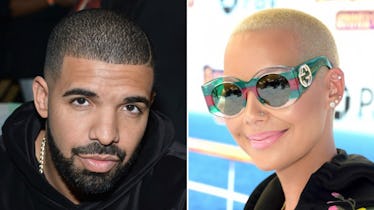 7 Celebs With Tattoos Of Other Celebrities That Prove Stars Fangirl Too
Grant Lamos IV/Getty Images Entertainment/Getty Images | Kevin Winter/Getty Images Entertainment/Getty Images
Even though celebs routinely rub shoulders with each other, they still have the potential to be total fangirls. Just like the rest of the world, celebrities have their faves, too. And some have even gone as far as to proclaim their love with a tattoo of said celebrity's face. These seven celebs with tattoos of other celebrities prove that fangirl fever doesn't discriminate. So, if you've got a celeb tattoo, you're in good company.
Celebs like Amber Rose, Drake, Justin Bieber, and Rob Kardashian all have tattoos of celebs that have inspired them. And there's way more where those names came from. So many celebs have celeb-related tattoos that it's impossible to name all of them. But here's a list of seven celebs with tattoos of other celebrities.
1. Drake
Drake's got a slew of tattoos, and among them are the faces of Aaliyah and Lil Wayne. Drake's love for Aaliyah, who passed away in 2001, is well-documented. So, she's obviously been a huge influence on him. His tattoo of the late singer sits right on his back, almost as if she's watching over him in some way. Drake also has a tattoo of Lil Wayne on his shoulder, proving he's the ultimate celebrity fangirl.
2. Justin Bieber
Even though Justin Bieber is engaged to be married to Hailey Baldwin, he's still sporting a tattoo of his old love Selena Gomez. He got the tattoo way back in April 2013 and doesn't seem to have any intention to remove it. You can see that tat of Gomez right above his wrist (long, dark hair and all).
3. Rob Kardashian
Rob Kardashian may keep a low profile compared to his siblings, but that doesn't mean he isn't totally devoted to his family as a whole. In fact, Kardashian has a tattoo of his mom Kris Jenner on his forearm, which shows exactly where his loyalties lie. It's an interesting tattoo choice, to say the least!
4. Amber Rose
Rapper Wiz Khalifa made such an impression on Amber Rose that he not only became the father of her child, but he also inspired her to get a tattoo of him. After the two broke up, Rose inked over it completely, removing any trace of her former love.
5. Evan Ross
Evan Ross, husband of Ashlee Simpson and younger brother to Tracee Ellis Ross, is a huge Michael Jackson fan. Not only was Ross super close to Jackson, but he's also got a few MJ tattoos, including the King of Pop's silhouette on his right bicep.
You can kind of see it in this Instagram shot.
6. Safaree Samuels
Like Amber Rose, Safaree Samuels once has a tattoo of an old flame, Nicki Minaj. But after their nasty split, he covered the tattoo with something a little less personal. His Nicki Minaj tattoo was interesting while it lasted, though.
7. Paris Jackson
The King of Pop's daughter herself is a huge fan of his and she's got the tattoos to prove it. Like close family friend Evan Ross, Jackson has several tattoos related to her dad. One of the more striking ones is of his Dangerous album cover, which features a haunting illustration of the late singer's eyes. It's on her left forearm!
I bet you didn't expect some of these celebs to be so brazen in their tattoo choices, huh? At the very least, they prove that even celebs can fangirl over their faves as well.