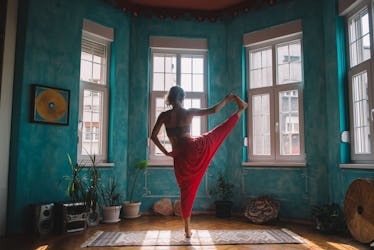 A Trainer Reveals The 7 Best Butt Workouts To Try If You Hate Doing Squats
I am a vehement hater of leg day. To me, there's nothing more torturous than working out my lower body and being sore for 79 years after the fact. And don't even get me started on squats. If satan was a workout, he would be a damn squat. But, alas, I do still want my body to be as balanced and strong as possible, so I suck it up and squeeze in leg day every now and then — with a specific focus on butt workouts that aren't squats.
If you work out on the reg and aim for full-body strength, but have a secret hatred for squats just like me, iFit trainer Becca Cappell says it's still worth your time to look for other, similar workouts you can do to challenge your lower body. "Most women are incredibly quad-dominant, which means that the front of their legs are much stronger than their glutes and hamstrings," she tells Elite Daily. "So even if you don't want a strong booty, you shouldn't skip glute day. Working out your behind will really help balance your lower body strength."
Strong glutes, Cappell adds, can also help increase your athletic performance. So whether you're a runner, swimmer, weightlifter, soccer player, tennis player, or the like, a strong booty is a huge game-changer, fam.
But here's the good news: You and I (and all of the other squat-haters of the world) can breathe a sigh of relief, because squats are not at all required for a strong behind. Here are seven squat-free, equipment-free exercises that are super simple and just as effective for building that lower-body strength.