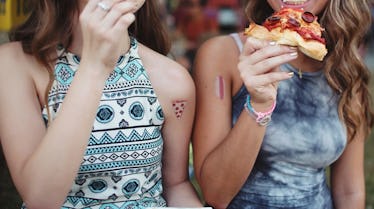 7 Best Friend Tattoos To Get With Your Work Wife, Because She's The Real MVP
One meaningful thing to do with your partner in crime at work is to get tats together. I mean let's get real here, it makes perfect sense that you would want to get best friend tattoos with your work wife, because they are permanent reminders of how much you care about and understand each other.
Your work wife is your complete lifesaver in the office, and you are hers. She has helped you through the most stressful days, and you vent together about all office struggles. She's also there to celebrate the good times — like every fun coffee run you needed when you're falling asleep at your desk. She's your favorite lunch buddy, and you have your go-to takeout spots you love. You seriously would not have the energy to get out of bed in the morning if it weren't for seeing her when you arrive at the office. She is the ultimate bestie, and what better way to show your special bond than with some ink?
Get a matching tat that reminds you of all the laughs you have together, or something that simply symbolizes the friendship between two people who spend most of each work day together. There are a million symbols to choose from, so I've made it easier for you both with these seven best friend tattoo ideas. There is sure to be one that is special and unique to the both of you.