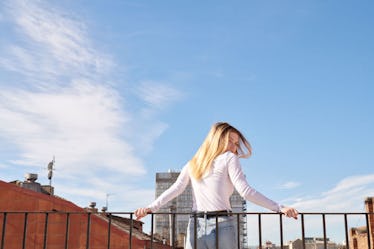 7 Best Cities To Live Alone In The U.S. If You're A Millennial Who's Looking For A New Home
It's about that time in your life when you're looking to make some big changes. You may be looking to change your career path, go to grad school, or finally start saying "no" to opportunities that don't support your dreams. You're also looking for a new home like a studio apartment on the West Coast, or a cute loft in the middle of a major city you can call your own. But, one question keeps running through your head: where? New York City seems exciting, and Los Angeles has beaches, boardwalks, and beautiful sunsets. You want to know some of the best cities to live alone in the U.S., though.
Like many millennials, you just don't want to live with roommates anymore. You're tired of worrying about who's hogging all of the space in the fridge, who forgot to take out the garbage, or who left their dirty dishes piled up in the sink. Gathering everybody's individual rent checks and abiding to a shower schedule in the morning is downright exhausting, too.
Sure, you'll likely miss the late-night runs to get chicken nuggets and French fries, and having buddies nearby when you want to re-watch episodes of Game of Thrones. (There are perks to living with roommates, too.) But, you really are ready for a change and to call a new city, block, and apartment, "home sweet home." How about one of these seven places?