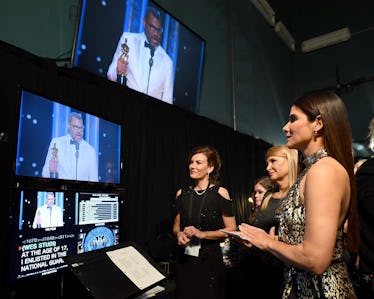 You Definitely Missed These 7 Tiny Moments At The Oscars
Handout/Getty Images Entertainment/Getty Images
From the amazing performances to the totally deserving winners to the unforgettable speeches, this year's Oscars ceremony did not disappoint. There were plenty of iconic on-screen moments (if you haven't seen Frances McDormand's powerful speech, get on that ASAP), but the real fun happened off-camera when celebs hit the bar and posed for pictures during commercial breaks. These behind-the-scenes 2018 Oscars moments didn't make it into the live TV broadcast, but luckily, insiders in the Dolby Theatre captured these genuine celebrity interactions for the whole world to see. After all, is life even worth living without knowing what shenanigans J. Law and Emma Stone are up to at the bar?
As with any good party, alcohol played a serious part in creating these hilarious (and heartwarming) behind-the-scene moments. According to E!, the bar at the back of the Dolby Theater was particularly crowded and served as a meeting place for stars like Timothee Chalamet, Taraji P. Henson, Laurie Metcalf, and Jordan Peele. By the end of the almost 4 hour show, Lawrence and her fellow attendees were drunk and ready to get away from the constant eye of the camera. Maybe next year we can move the bar into plain view so these amazing moments happen on-screen?
The Best Actress nominees shared an emotional hug after McDormand's speech.
The biggest behind-the-scenes Oscars moment happened immediately after the biggest on-screen Oscars moment. After McDormand went backstage with her Oscar, her fellow Best Actress nominees gathered in an emotional group hug during the commercial break. Timothee Chalamet managed to capture the moment on his Instagram story, captioning the video "legendz." According to E!, Lady Bird's Saoirse Ronan was the first to initiate the hug, running over to The Shape of Water's Sally Hawkins before urging Meryl Streep (The Post) and Margot Robbie (I, Tonya) to join. During McDormand's speech, the camera cut to her fellow nominees, and there wasn't a dry eye among the bunch, so it's no surprise that they wanted to get together after the cameras stopped recording. This group of 5 women has been competing against one another on the awards circuit since January, but it's great to see that they remain supportive of one another no matter the outcome.
Adam Rippon joked about his bondage-themed outfit on the red carpet.
Adam Rippon arrived to the Oscars in a Jeremy Scott leather harness, immediately turning heads on the red carpet. When someone complimented Rippon on the bondage-themed outfit, he replied with his trademark sense of humor. "Thank you, just something subtle," he said. Can we give him a gold for sarcasm?
Sandra Bullock and Nicole Kidman were totally unashamed to tear into their snack boxes.
Rather than sit through the show on an empty stomach seat mates and Practical Magic co-stars Bullock and Kidman rifled through the snack boxes under their seats and compared their goodies. Each box contained gummies, chips, a snack bar, and Listerine, plus a handwritten note from host Jimmy Kimmel saying that a donation to the LA Food Bank had been made for each box.
Jennifer Lawrence and Emma Stone shirked their responsibilities and hung out at the bar.
The friends and seat mates reportedly spent much of the evening drinking wine in the downstairs bar of the theater. According to E!, J. Law was overheard saying that she had "nothing to do" but present one award, so why not hang out at the bar and keep drinking wine?
Judd Apatow, Leslie Mann, Emma Stone, and J. Law took some group pics.
Um, we're going to need these pics posted to social media immediately.
The Lady Bird crew continued to be super cute off-screen.
During one commercial break, Ronan and a few Lady Bird cast mates gathered around director Greta Gerwig's phone as she showed them something. We don't know what it was, but apparently, they all cooed and said "Awww!" so now we need to know what they were talking about. The group then toasted to congratulate Gerwig's three noms.
Kelly Ripa talked tequila on the red carpet.
On the red carpet, Ripa told her Live With Kelly and Ryan co-host Ryan Seacrest that she has a serious spread for award winners backstage. "As soon as they hand them the Academy Award, they turn around, they come right to us backstage. We have candy set up there; we have a full bar. We serve tequila and apparently no one else here does so that's the key!" she said. Oh, so is this why Lawrence has to stick to wine on Oscars night? Kelly Ripa has all the answers.