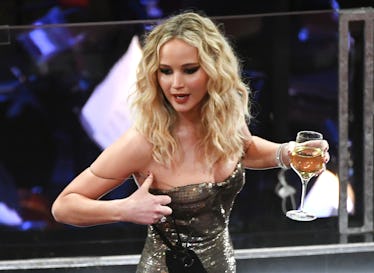 Jennifer Lawrence Is Living Her Best Life At The Oscars & These Photos Prove It
Kevin Winter/Getty Images Entertainment/Getty Images
She has been working in the entertainment industry for ten years now, and yes she has remained one of the most publicly beloved actresses in Hollywood. Of course, I'm talking about Jennifer Lawrence — America's down-to-earth and most relatable girl next door. And just like the rest of us, she likes to enjoy herself with a libation or two. I mean who wouldn't like to have a couple of drinks at a major celebratory event, especially if it's something as monumental as the Academy Awards. While attending this year's show, J.Law decided to have herself a drink or two — and these photos of Jennifer Lawrence drinking wine at the 2018 Oscars are the most relatable pics we've seen from the night thus far.
Following what I can only imagine was an excruciating press tour for her latest film Red Sparrow, Lawrence decided to take a break from all the interviews at this year's red carpet and just head straight for the Dolby Theater to enjoy this year's Academy Awards. And when anyone wants to let loose, usually drinks are involved. Right after totally dodging the media, J.Law pranced into the event space early and grabbed her herself a glass of wine. And the pictures are seriously too amazing.
J.Law didn't waste any time in getting herself a drink prior to this year's Oscars.
And it appeared that she didn't really care who was judging her for it.
She stopped to give Salma Hayak a quick hug once she entered the theater.
And of course stopped to chat for a while — as a lady with a drink does.
And then proceeded to stumble her way to her designated seat for the big show.
If these pictures don't prove that J.Law is the most relatable actress in Hollywood, I don't know what will. The girl literally avoided talking to anyone on the red carpet in order to (I presume) get to her drink before anyone. Invite me to any social large social function that has a bar — open or cash — and I will react in the same exact way.
To be fair, these past couple of weeks have probably been insanely stressful for Lawrence. She's had to make the rounds while promoting her new film, which included appearances on The Late Show with Stephen Colbert, The Ellen Show, and Watch What Happens Live! with Andy Cohen. That's a pretty stacked schedule for any actor, and especially stressful when this busy schedule occurs just before the Academy Awards.
So while I wish that J.Law made more of a splash on the red carpet and indulged in some interviews, I completely understand why she decided to just sashay past everyone and head inside for a nice glass of white. Seeing as J.Law has had a lot to deal with while on her press tour, it doesn't surprise me at all that she decided to opt out of interviews. I loved Lawerence a ton already, but these images of her living her best life and enjoying the glass of wine that she deserves makes me love her even more.
Even if J.Law isn't nominated for anything, she still manages to make headlines at any awards show that she attends. It's a quality that only a massive personality like hers can possess, and it's truly an inspiration. I always look forward to anything that J.Law does and I hope that she has a lot more in store for her in the future. Hollywood is often seen as an unattainable dream for many, but Lawrence's personality makes that dream more of a reality for any aspiring entertainment professional. So thank you J.Law for always keeping it real — your refreshing spirit gives hope to us all.