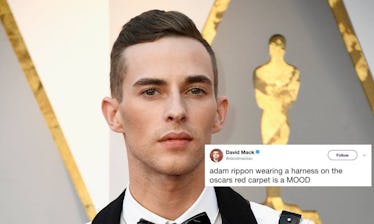 Adam Rippon Showed Up To The Oscars In A Leather Harness & Twitter Is Loving It
FRAZER HARRISON/GETTY IMAGES ENTERTAINMENT/GETTY IMAGES
In case you aren't aware of the American sensation that is Adam Rippon, you certainly will be after tonight. Rippon recently slayed the ice rink during the 2018 Winter Olympics. He stole our hearts with his immense talent, lively personality, and unapologetic queerness. Now, Adam Rippon's 2018 Oscars look is showing the world that his pride extends from the ice rink to the red carpet.
Rippon is known for being unapologetically out and proud, a true role model in an ever close-minded and bigoted society. In fact, he was the first openly gay athlete to be sent to the Winter Olympics. He stole our hearts with his free skate in PyeongChang. Within minutes, his routine was a trending topic on Twitter. Not only was his routine technically strong as hell, his personality shined through and proved that being yourself is worth more than its weight in gold. As reported by People, Adam Rippon himself has stated the following about his work:
I came here to do a job, and I think that being vocal has kind of given my skating more importance. It's not just for me. I got out there because — it's not just gay kids, I think that everybody can relate to being different or feeling like they're not good enough or they'll never make it because they're from a small town, or maybe they just don't feel like they're good enough."
Seriously, can Adam Rippon just run for president, already? He's the hero we need.
As if his kindness, humor, and immense talent weren't enough, he's now proved himself as the fashion icon of the 2018 Oscars.
Get ready kids: Adam Rippon, the athlete, personality, and literal god, is wearing a Jeremy Scott leather harness on the red carpet. That's right. Adam Rippon is wearing a BDSM-inspired leather harness on the red carpet.
The harness wasn't his only fierce accessory, however. Rippon also wore an adorable pair of black loafers, a shiny black bow tie, and some cute jewelry. He posed side-by-side with his fellow ice skating pal and Olympian, Mirai Nagasu.
Twitter, of course, was loving this look. Adam Rippon was absolutely tearing up the red carpet and exuding queerness in a way that would have made all of those who paved the path before him proud.
He was repping leather subculture and erotic fashion in a sphere where mainstream fashion and beauty have systematically dictated the dress code.
As Zac Petkanas tweeted (above), it's hard to restrict Rippon's courageous act of fashion into words.
Rippon fans (which is really all of us, TBH) could not contain their excitement.
This Twitter user just called it as it is. I know he's only eligible for medals, but can we please give Adam Rippon an Oscar, too? I think he deserves it for his work in the movie of our lives.
Adam Rippon served us all more conformity-disrupting gorgeousness then we even knew was possible.
He's truly an inspiration to all.
Of course, there were also plenty of thirsty tweets referring to Rippon's extreme hotness.
He always looks amazing, but at the Oscars 2018, he's everything.
I am in tears over it as well, TBH. How is he this amazing in every way possible?
He was one of the first to appear on the red carpet, which meant every other star could go home early and put on their PJ onesies and do a sensible face mask, because he had already won the night.
This "who wore it better" comparison isn't even a contest.
I'd definitely be down for a 2018 revival of Cabaret with him as the MC. At this point, I wouldn't be surprised if he had golden vocal chords that allowed him to sing with the literal voice of an angel.
When Tyra Banks is rooting for you, then you know you're already America's Next Top Model.
Bless you, Adam Rippon, for all that you do — for your fashion, your talent, and, perhaps most importantly, your pride.